mCurrency Converter is a simple and fast currency converter, providing up-to-date exchange rate information for over 170+ currencies and countries. It has a beautiful interface for quick access to conversions you need. mCurrency Converter great for travelling abroad or for watching foreign markets.
FEATURES
Convert over 170+ currencies and exchange rates
Widgets
Create a custom currency (price, name, country, flag, symbol and code)
Data download only when you use the app
No background data download and no background services (optimal battery use)
Ready to work offline. Stores last updated exchange rates for offline use
Copy calculation results
Historical Currency Charts
You can add as many currencies as you want
Powered by Yahoo! Finance API
PERSONALIZE YOUR SETTINGS
Light/Dark Theme
Set Wi-Fi only data download
Set the frequency of rate updates
Turn currency symbols on or off
Choose the number of decimals to display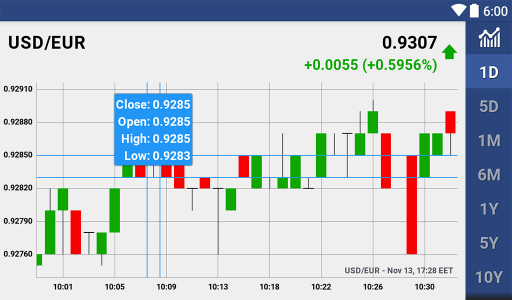 Simple Interface
mCurrency Converter has a clean and simple interface, saves time, and increases productivity.
Charts
You can view historical currency conversion charts for any two currencies. Charts for most currencies are available for 1-day, 5-days, 3-months, 1-year, 2-years and 5-years.
Exchange Rates Updates
Our app updates Exchange Rates on demand, or automatically at pre-defined intervals ranging from 1 hour to 1 day. The exchange rates will be cached locally when you have the internet connection, so you can use this app with the cached rates when there is no internet connection.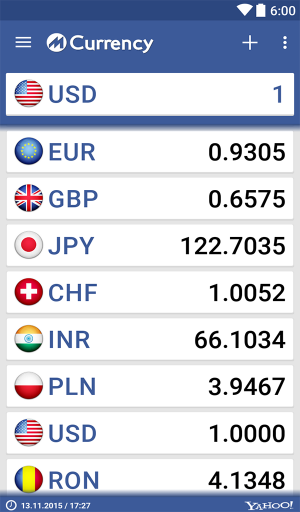 Exchange Rates Listing
The exchange rates listing shows a base currency compared to all other currencies, similar to the electronic exchange rate boards.
Exchange Rates Provider
mCurrency Converter uses official exchange rates published on Yahoo! Yahoo Finance rates are trusted by millions of people.
170+ Currencies
United States Dollar (USD), British Pound (GBP), Swiss Franc (CHF), Japanese Yen (JPY), Euro (EUR), Canadian Dollar (CAD), Australian Dollar (AUD), Chinese Yuan (CNY), Russian Ruble (RUB), Ukraine Hryvnia (UAH), South Korean Won (KRW), Brazilian Real (BRL), Mexican Peso (MXN), Saudi Arabian Riyal (SAR), Czech Koruna (CZK), Polish Zloty (PLN), Turkish Lira (TRY), Swedish Krona (SEK) and other.
Precious Metals
Gold Ounces (XAU), Silver Ounces (XAG), Palladium Ounces (XPD), Platinum Ounces (XPT)